BALTIMORE CITY RENTAL INSPECTION FOR BALTIMORE LANDLORDS
If you are a rental property owner/landlord in Baltimore City, on August 1st, 2018 the law will require rental units to be registered and inspected by a licensed home inspector by January 1, 2019 to obtain a rental housing license.
Property Inspection Pros can conduct Baltimore City rental inspections, a requirement for Property managers to obtain and renew a Baltimore City rental license.
Here's what landlords love about us
We're Prompt
We value your time, that's why we make it a rule to arrive promptly on time for your inspection.
We're Friendly
Our experts are friendly, patient and always willing to answer any question with a smile
We're Professional
Our inspectors take the time to keep you informed about everything we find during the inspection and how to take care of it.
Schedule Your Baltimore City Rental Inspections Today
Our Inspectors are ready to help you out.
Baltimore City Rental Inspection Services
What's new about the law?
All Multiple-family dwellings (MFD) must be licensed.
All one- and two-unit dwellings must also be licensed.
All rental units (including one- and two-unit dwellings) must pass an inspection to obtain a license.
All rental units must have a sanitation plan educating tenants on proper waste storage and disposal.
Effective date of January 1, 2019.
There is now a tiered license expiration based on property owner's compliance with code. All initial licenses are issued for a two-year period. When it is time for renewal, a landlord may be able to obtain a three-year license or be limited to a two- or one-year license based on your maintenance record and violation history.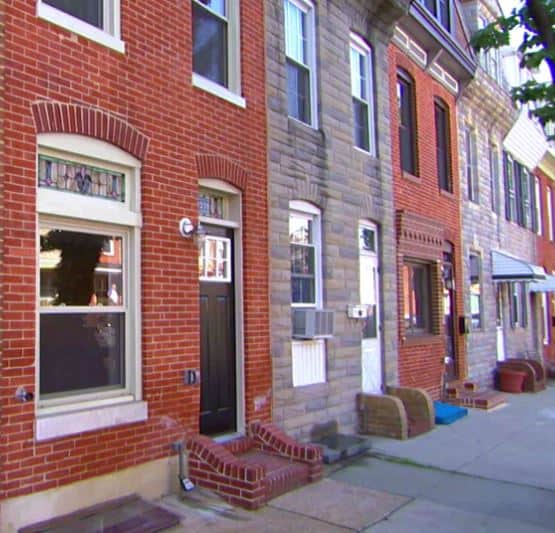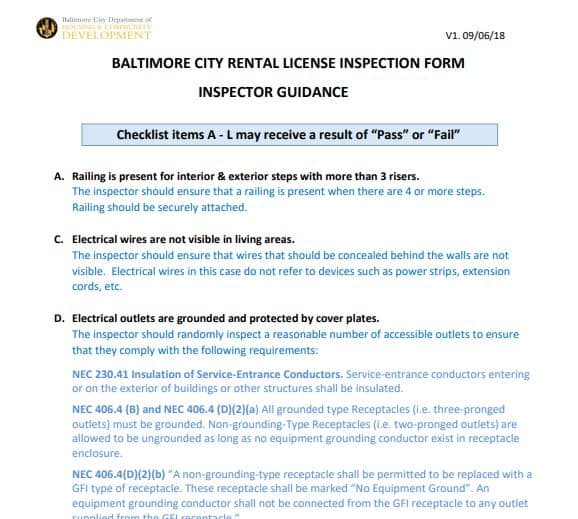 Baltimore City Inspection Process:
The Baltimore City Rental Inspection process is quite simple and usually won't be longer than 30 minutes. As a matter of convenience, owners, landlords or property managers are not required to be at there as long as proper access has been coordinated with the tenant or, if vacant, there is a lock box in place.
We will email you a copy of the inspection form in advance so you are aware of exactly what the county requires and what will be inspected. We encourage clients to understand the requirements in advance to avoid lost time and potential additional cost.
Links
Baltimore City requires the following:
Railing is present for interior and exterior steps with more than 3 risers.
Electrical live wires are not visible in living areas.
Electrical outlets are protected by cover plates.
Electrical outlets in areas where water is generally present (e.g. kitchen, bathroom) are
Ground Fault Interrupter (GFI) protected.
Smoke Detectors are properly installed and operational.
Carbon Monoxide Alarms are properly installed and operational.
Plumbing fixtures do not leak.
Windows, which are designed to do so, should open and close and have a working locking
mechanism.
The property has an operable heat supply system.
The interior of the property is clean and sanitary.
The interior of the property appears to be free of signs of infestation by rodents, insects, or pests.
If there is a bedroom in the basement, there is proper egress in case of fire.
The exterior is free of rodent burrows.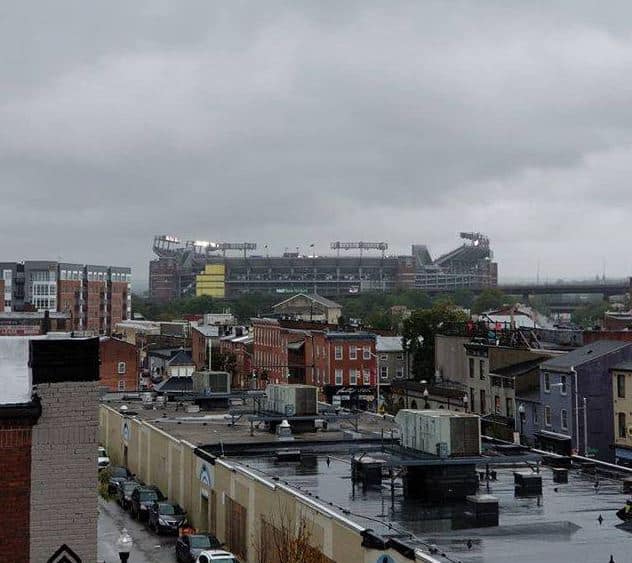 What our Customers Say
We stand behind our work and our customers have nothing but good things to say. Here are a few examples:
Schedule a Baltimore City Rental Inspection Today
Our Inspectors are ready to help you out.